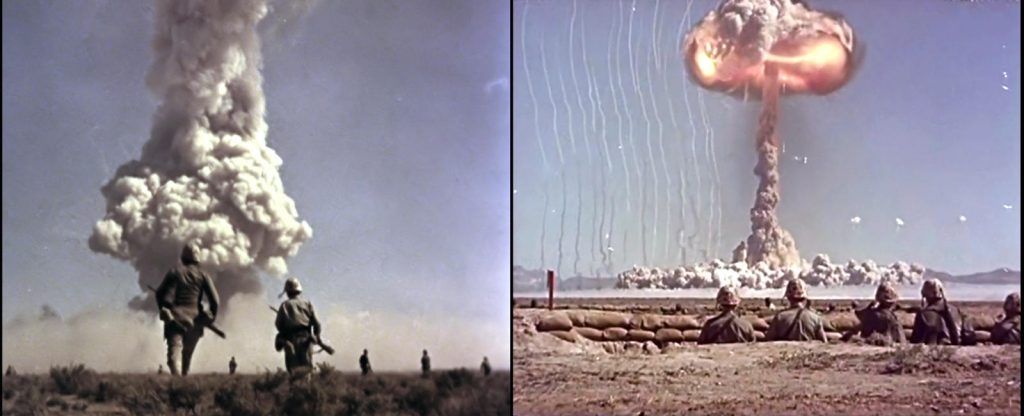 VIDEO INSTALLATION
Out of Control. Reports on the Atomic Bomb
A film by Beatriz Caravaggio
DATE AND TIME 02/06/2023 - 31/01/2024
Monday to Sunday (including public holidays):
10:00 am - 9:00 pm
Original version (English) with Spanish subtitles Duration: 50'On 13th and 15th December, the exhibition will close at 6:30 pm On 14th December the exhibition will remain closed
ADMISSION
Free admission. Limited capacity
VENUE Sala MULTIVERSO
Fundación BBVA
Palacio del Marqués de Salamanca
Paseo de Recoletos, 10
28001 Madrid
Out of Control. Reports on the Atomic Bomb was commissioned by the BBVA Foundation from the video artist Beatriz Caravaggio, who chose and developed this piece on the issue of nuclear weapons with complete artistic freedom from among the three possible subjects proposed to her. The commission was made before the start of two dramatic global events: the COVID-19 pandemic and Russia's invasion of Ukraine, due to which the threat of nuclear weapons has resurfaced as an international concern. Its release coincides with the G7 Summit being held in Hiroshima on the initiative of Japan, to symbolize this latent threat while calling for peace in Ukraine.
Out of Control takes an approach that stands out from the numerous other works produced on atomic weapons and their creators. At the core of its visual and textual narrative is the aggregate – and paradoxical – result of the confluence of a strong capacity for analytical study and control, characteristic of scientific practice in specific domains, and the latent lack of control existing in the social application of the results and promises of science in the absence of dialogue and debate on values and positions of an ethical, civic and environmental nature. With its minimalist language that avoids both explicitly moralizing and criticizing or rejecting the cognitive pillars of science, this is a singular piece of modern filmmaking of enduring cultural significance and widespread relevance to other cases.
Out of Control is being shown in Madrid and then Bilbao under the partnership between the Bilbao Fine Arts Museum and the BBVA Foundation. In both cities and exhibition venues, the work will be accompanied by dialogues between the artist and leading experts in different aspects of the topic and its artistic treatment, the first of which will be a conversation between Beatriz Caravaggio and Miguel Zugaza, Director of the Bilbao Fine Arts Museum.